---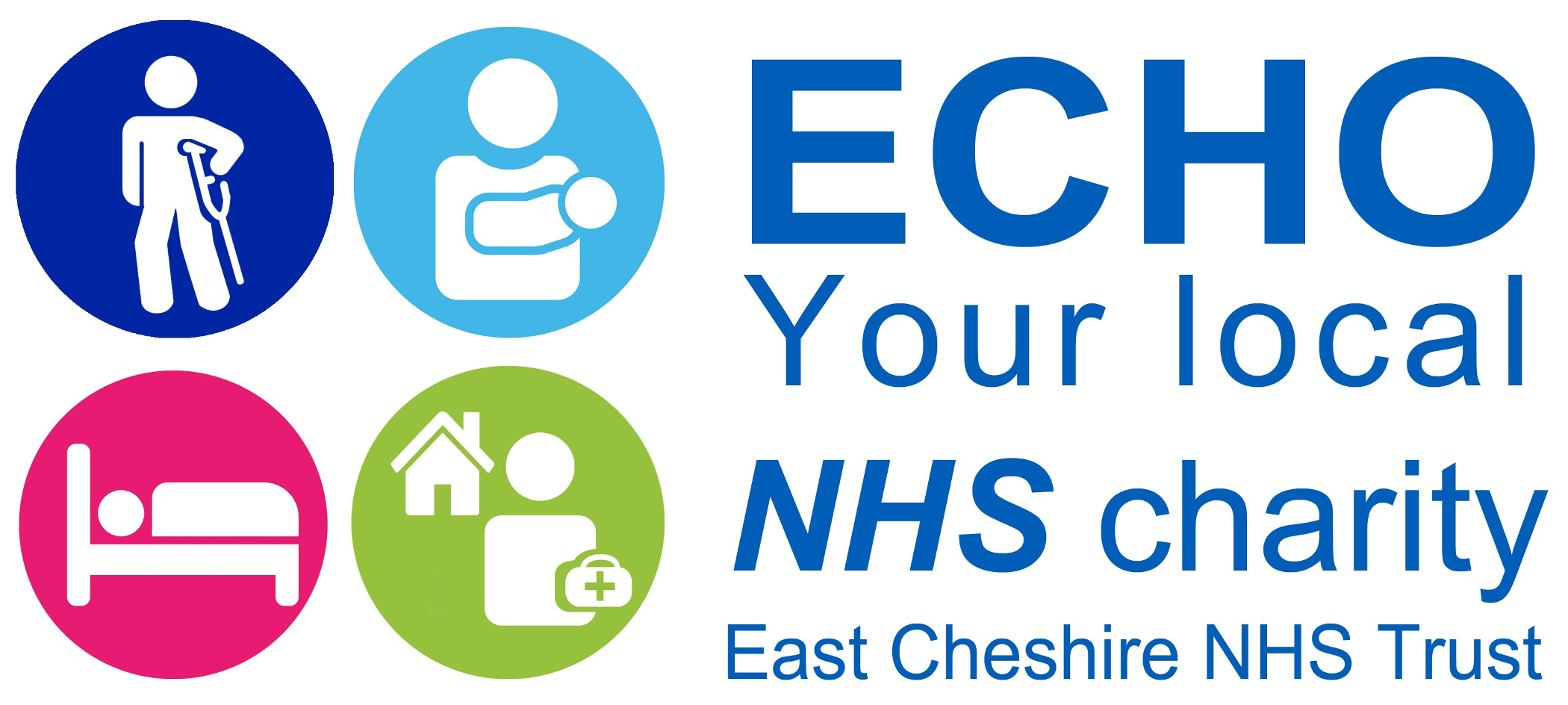 ECHO Charity
---
ECHO is East Cheshire NHS Trust Charitable Fund, the official charity of East Cheshire NHS Trust. ECHO raises money for not only Macclesfield District General Hospital (MDGH), but also Knutsford Community Hospital, Congleton War Memorial Hospital and all our community services.
Although NHS hospitals are funded by the government, ECHO helps East Cheshire NHS Trust go the extra mile. We aim to provide high quality care and be a brilliant place to work. We achieve this through research, training, enhanced facilities and cutting-edge medical equipment over and above what the NHS funds.
To keep up to date with ECHO follow us on social media @ECHOnhscharity.
---
Online
You can make a one off or monthly donation to ECHO through our JustGiving page here.
Cheque
If you'd like to make a donation by cheque, please make it payable to East Cheshire NHS Trust and return by post to:
Fundraising Department
New Alderley House
Victoria road
Macclesfield
Cheshire
SK10 3BL
When you send in your donation, please specify who the donation is from, indicate which hospital, department or ward you would like to support and any other information around why you have donated.
Charities Aid Foundation (CAF)
Click here to donate make a donation through CAF.
Gift Aid
By applying gift aid to your donation, it allows us to claim extra money from the government at no extra cost to you. We can claim an additional 25p for every £1 you spend. For more information about Gift Aid, please visit the government website here. You can add Gift Aid to your donation by completing this form or through our JustGiving Page.
A contribution of 12.5% of this donation (12.5p per £1) will be deducted for administration purposes.
Join #TeamEastCheshire for the return of the 5k, 10k & Half Marathon this October! Be among thousands of fellow runners chasing down a personal best while supporting your local NHS Charity.
Enjoy a fully road closed half marathon, 10k and 5k races, starting and finishing in the historic town of Macclesfield and heading out into the Cheshire countryside.
When you join team #EastCheshireNHS, you'll receive:
A complimentary running vest
Support from our specialist team to help with your training and fundraising
A fundraising pack with ideas to help you meet your fundraising target
For more information and to sign up click here.
Are you part of a choir, exercise class or community group? Does your child attend a school, nursery or social group? Do you have a partner, friend or family member who works at a business that takes part in fundraising activities?
Ask your friends or family to nominate ECHO as a charity of the year partner or for a one off fundraising event!
Easy Fundraising
Did you know that whenever you buy anything online – from your weekly shop to your annual holiday – you could be raising free donations for ECHO with easyfundraising? There are over 7,000 brands on board ready to make a donation – including eBay, Argos, John Lewis, ASOS, Booking.com and M&S – and it won't cost you a penny extra to help us raise funds.

All you need to do is:

1. Go to easyfundraising and join for free.
2. Every time you shop online, go to easyfundraising first to find the site you want and start shopping.
3. After you've checked out, the brand will make a donation to ECHO at no extra cost to you whatsoever!

There are no catches or hidden charges and we will be really grateful for your donations.

Thank you for your support.
Give as you Live
When you shop via Give as you Live Online you have access to over 6000 stores who offer donations to ECHO. There is no cost to you or the charity as the donations generated are paid by the store you're shopping at. Search for 'East Cheshire NHS Trust Charitable Fund' to start donating today.
To speak to the fundraising team about supporting the charity or making a donation please use one of the methods below:
Email
ecn-tr.ECHOhospitalcharity@nhs.net
Telephone
01625 661184
Address:
The Fundraising Team
New Alderley House
Victoria Road
Macclesfield
Cheshire
SK10 3BL
If you'd like to be kept up to date with all things ECHO, email the fundraising team to sign up to our newsletter ecn-tr.ECHOhospitalcharity@nhs.net.
---
---
---
---
Charity Number: 1059228
---